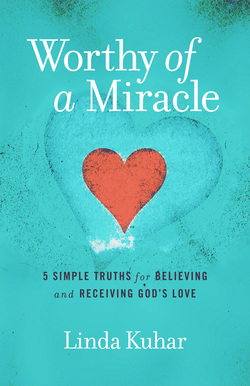 Despite a miraculous recovery from a coma, Christian life coach Linda Kuhar still struggled with a question so many wrestle with: ''Am I worthy of God's love?''

After prayer brought Linda Kuhar back from the brink of death, she was in demand as a speaker for Bible study groups and other Christian organizations. There was one problem--deep down, Linda didn't believe she recovered because God miraculously healed her ... she did not believe she was worthy.

Worthy of a Miracle is not only about Linda's physical healing but her spiritual healing and how she discovered her true worth in Jesus. It is a guidebook for any woman who wants to more fully own her inheritance as a daughter of God. And it is for you, no matter where you currently are on that journey. It is not a step-by-step instruction manual on how to become "worthy," but rather an inspirational practice to deepen your awareness of how worthy you already are by accepting the relationship Jesus offers.

Over the years Linda learned how to use an acronym as a simple reminder of how to live in the truth about her worth and relationship with God. To walk you through your own shift in perspective about how worthy you are, Linda shares with you the most important lesson she learned along the way: Jesus is the answer.

---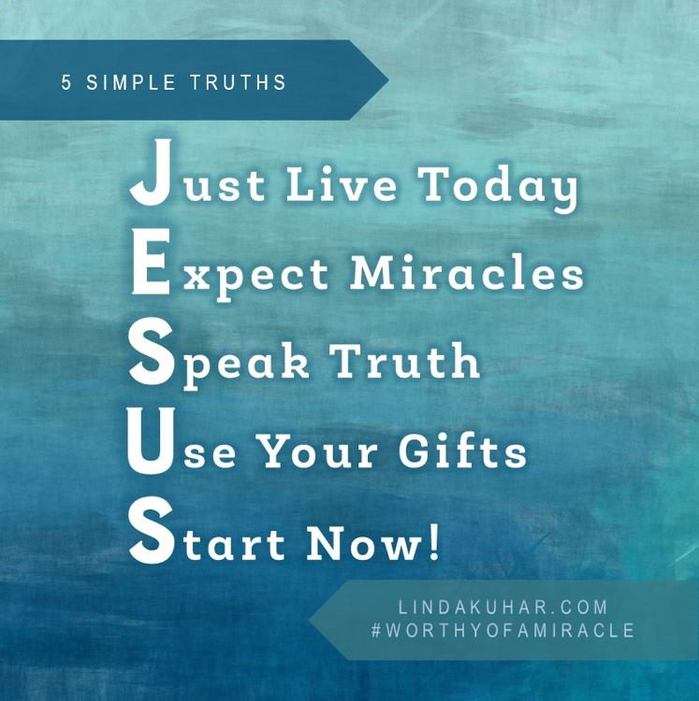 ---
---
WHAT OTHERS ARE SAYING ABOUT THIS BOOK:
Linda's story is an amazing example of God's mighty power and faithfulness. If you're believing God for something that seems impossible, let this book empower you to believe you are worthy and He is with you!
– Lysa TerKeurst, New York Times bestselling author and president of Proverbs 31 Ministries
Linda Kuhar extends an invitation to find an extraordinary God at work in the middle of our ordinary lives. She offers faith, encouragement and, most of all, hope. Whether you're going through a difficult time or are simply looking for inspiration and a new perspective,
Worthy of a Miracle
will meet you where you are and help you see what could be.
– Holley Gerth, Wall Street Journal Bestselling Author of You're Already Amazing
My friend Linda is what I call "Gospel-strong"! In the pages of Worthy of a Miracle, you will see how in Linda's weakness, Jesus made her "Gospel-strong"! You will not regret buying this book; you'll like it so much, you'll buy five more for your family and friends.
­­– Derwin L. Gray, Lead Pastor Transformation Church, Author of Crazy Grace for Crazy Times Bible Study (Lifeway)
I knew Linda's story would be inspiring, but had no idea how much her book would touch my heart as a woman, a wife, a parent and a believer. Seeing how God orchestrated small and life changing miracles in her life literally moved me to tears as I witnessed the tangible proof of the power of God at work. Her story is a beautiful reminder of God's sovereignty, packed with scriptural promises and practical steps for growing our relationship with God, while reminding us all that we are worthy of His miracles too.
– Tracie Miles, Christian Speaker & Writer, and Author of two best selling books, Your Life Still Counts: How God Turns Your Past Into A Beautiful Future and Stressed-Less Living: Finding God's Peace In Your Chaotic World.
I heard Linda's cancer story numerous times through our connection with the Team In Training program with Leukemia and Lymphoma Society, but reading her book gave me a brand new perspective on the challenges, fears, choices and triumphs she, her family and friends faced in her fight against lymphoma. As her coach for her first half marathon, just six months after her coma, I never saw her back down on her commitment to train for and complete her 13.1 mile victory, even when the going got tough. What I did see was how that commitment inspired her fellow teammates to persevere. I admire that she has the courage to build on what she learned from that experience to go after her purpose in life. ­
– Beth Carty, Team In Training Coach for the Leukemia and Lymphoma Society
Linda's book is her personal, beautiful, and inspiring story of God's faithfulness, and her story is for any woman who has ever felt she was not worthy of a miracle. Linda learned how to open her heart to receive His gift of amazing love as God "
used a physical coma to fully reveal to her how to have a relationship with Jesus."
– Janice LaVore-Fletcher, PCC, MCC, BCC, President of Christian Coach Institute, LLC